9 Easy ideas for organizing backpacks & creating a school gear drop zone, even if you don't have a mudroom or large space. Small organized space solutions. Create a space in your home where backpacks and school gear live & shoes never get misplaced again! 
9 Organization Ideas for Backpacks & School Gear 
If you're rushing to get out the door in the morning and avoid a tardy start to the school day, then trying to find a misplaced backpack, water bottle or pair of shoes is the last thing you want to encounter.
While most families don't have a mud room built into their home, there are easy solutions to help you and your family stay organized if you have a wall or small space you can work with. 
I was able to find some easy inspiration to create your own backpack station without having to commit to a multi-day project or operating heavy machinery when I began trying to find a way to create a school drop zone in our own home. 
A lot of the projects you'll see involve just a few simple things such as:
And of course, if you just want a pre-made unit, there are always storage lockers if you have space and don't mind assembling it.
Benefit of Having a Dedicated Drop Zone
Creating a place where you organize backpacks & school supplies is a fantastic solution to corral your child's belongings into one easy-to-find-place.
When your kids run out in the morning and back through the door after a long day at school, they'll learn to put backpacks, shoes, jackets and hats in one spot instead of randomly dropped throughout the house and left for you to pick up. 
Say goodbye to the breadcrumb trail of belongings scattered every which way.
Never lose shoes or school gear again, and when you know everything will always be easy to find – for you and your children – it's a nice peace of mind.
Here are 9 easy storage solutions to inspire you to create a school drop zone for backpacks and belongings in your house. 
9 Easy Storage Solutions for Backpacks & School Gear
1) Crafting Southern Mama expertly uses cork boards as a great way to stay on top of paperwork and reminders. This would be great to put up school schedules, sports schedules, birthday invites, and other dates to remember.  The double hooks are great for duel purposes – backpacks and jackets!
Recreate This Organized Wall: 
2) A Mom's Take turns a blank wall into a simple backpack station with a pop of color.
Recreate This Backpack Wall: 
3) I'm an Organizing Junkie added double hooks (board wall optional) and mesh baskets for school papers and made this blank wall function for kids to hang backpacks and jackets.
Recreate This Organized Backpack Wall: 
4) Housewives of Riverton. I know the idea of cleaning out the hall closet might sound like a huge project, but this is a great idea for an out-of-sight storage and organization area. The closet then becomes it's own mini-mudroom complete with a door to hide any mess. Put a couple baskets on the floor to catch gloves, hats, scarves and sunglasses.
We did this to a closet in our last house and suddenly the closet felt gigantic because of all the space we saved by better using the wall space.
Recreate This Organized Backpack Wall: 
5) My Creative Days turned a bookcase on it's side for instant cuties. Add hooks in each nook for jackets and backpacks and even place a basket at the bottom to catch all the extras or a pair of shoes by My Creative Days. 
Recreate This Storage Locker: 
6) Batmom created a DIY Backpack Station with chalkboards for names, memos and reminders. Cute if you have a little extra time and skills at carpentry.
Recreate This Chalkboard Backpack Wall: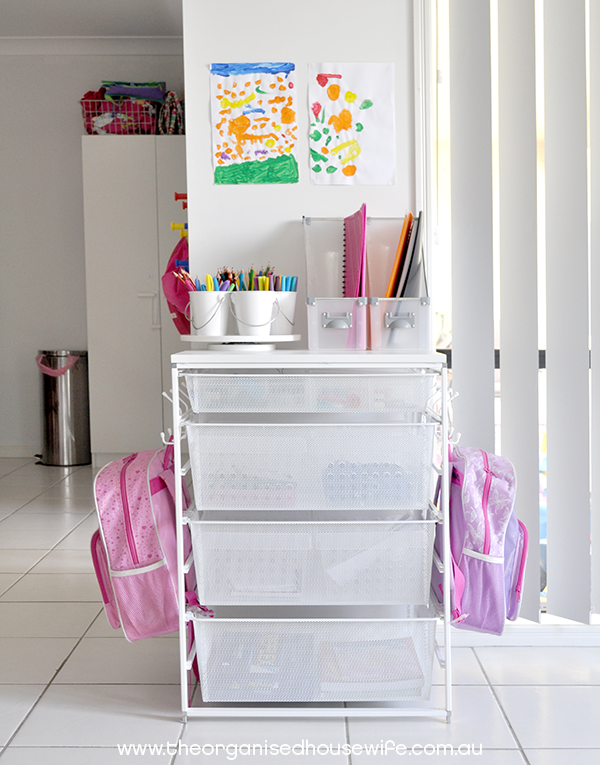 7) The Organized Housewife made a great organization area if you're short on space. This is a fantastic storage solution using a white 7 Runner Elfa System (Container Store) with mesh baskets and a wooden top to hold supplies. Hang hooks on the sides to hold backpacks, jackets, hats and other items. Pure genius, right!?
Recreate This Mini Organization & Backpack Space: 
8) The House of Wood created this super functional area in their home with double hooks and a stylish storage seat bench, perfect place for shoes, backpacks and jackets! I love storage furniture to hide items and make your home look uncluttered.
Recreate This Storage Space: 
9) The Organized Housewife does a great job at being budget conscious when it comes to creating a functional backpack hanging wall with schedule for the week and family's activities.
Recreate This Backpack Wall with Command Center: 
School Related Resources: