The weather is warmer, which means camping season is here!
However, camping with kids is a whole other ballgame than the days when you used to camp with friends or your honey.
Camping with kids requires serious planning and a slew of supplies, but if you bring along the right camping essentials when you take your kids camping, the smaller incidentals you may have forgotten to pack, won't put a damper on your outdoor adventure.
What are camping essentials of when you go camping with kids? Here are 10 Big Camping with Kids Essentials, but don't forget to check out the small list at the end, of items you should always overpack… because you know, weather and life happens.
10 Essentials for Camping with Kids You Don't Want to Forget
Once you've chosen your camp location (picking the right kid-friendly camping spot is the first step), then you can begin preparing for all the supplies you'll need to pack. Here's what you'll need to make this family vacation a fun one.
First Aid Kit
This may seem pretty basic, but you'd be surprised how many camping trips our family has been on and other campers come around asking if we have bandaids and antiseptic. Always carry a first aid kit with you when you're camping because kids are notorious for scraping their knees, falling, tripping over sticks and accumulating a list of injuries. I keep a first aid kit in the car for this reason, but we also have one packed away in our camping boxes so we're never without bandaids, cleaning wipes, antiseptic and other necessary items.
This is the compact first aid kit I keep in the car for lighter, everyday use and this is a bigger first aid kit with more gadgets if you're out in the wilderness and need more than just a bandaid.
Bug Off Bracelets & Insect Repellent
Bugs are the worst. I love being in nature, but only when we're in a bug free area and in the wilderness this is pretty much impossible unless you have the supplies to make it happen. Sure, bugs are annoying, but also, ticks carry life debilitating diseases! Thankfully you have a couple easy options which can make camping a bug-free and bug-bite free experience!
You can also DIY your own bug off bracelets:
Stay away from any fragrant lotions, sunscreens, and body products which make you bug's best friend!
Foam Tiles for the Camp Floor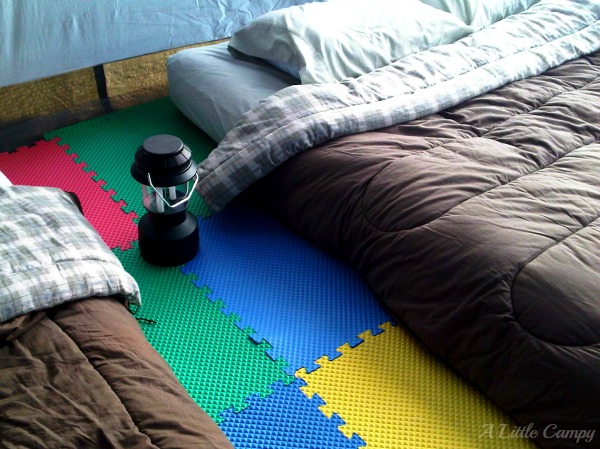 When your kids are walking around in the tent, are trying to fall asleep, or roll off their beds at night if they're on air mattress or pad, the extra cushion of soft floor tiles on the bottom of the tent, makes tumbling onto rocks and dirt underneath, not painful or wakes them up at night.
Tent Lanterns
This is one of those often overlooked areas of camping. You remember to pack camping lanterns for outside, and for your food prep and meals area, but what about inside the tent? Having light in the tent when you're getting changed for bed, or up in the middle of the night for a bathroom break is a must! Camping lanterns are expensive so stocking up on 6 or 7 of them is a big outrageous, plus the large C and D batteries are equally expensive. Here are some inexpensive tent lighting options:
These mini hanging tent lights made it on our camping trips last year and worked great! Your tent already has netting and hooks to hang items, and these are the perfect brightness and right compact solution.
Headlamps – these come in adult and child sizes, and can easily be taken on and off and stored by the side of your bed while you sleep at night.
You can also take a flat bright headlamp and strap it to the a water or milk jug (filled with water) to illuminate the entire tent. We tied this and it surprisingly worked really well and gave off a lot of light.
Pool Raft Camping Beds
Pool rafts can be multi functional on a camping trip – as beds for your kids and during the day, as floats if you're near a stream, lake or any water really. After the floats are dry and cleaned off, this is a cheap way to make your kid's camping bed nice and cozy without the price tag of an air mattress. I wouldn't necessarily use these for adults, but for kids it's a great solution.
I usually pick up 3 of these each year for a few dollars each  at the beginning of swim season and throw them into our camping bin for safe keeping.  Here is a 2-pack set for a decent price.
Hand & Foot Washing Station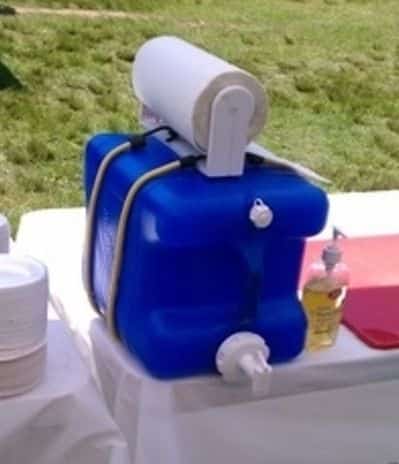 Having a hand and foot washing station at your campsite is absolutely necessary because most campsites aren't equipped with running water. Camping is messy and within minutes of setting up your campsite, I'm willing to bet your kids will already be covered in dirt.
This is why you need a hand washing station. You can make your own with a recycled laundry detergent or double water jug from the grocery store, just as long as it has a spout. Place the washing station on the edge of the table for easy washing. You an also place a large tub under the spout to catch the water and use it to rinse off feet, without wasting any water.
As a bonus, use a bungee cord to secure a paper towel holder to the top as you can see from the picture on the left. (source unknown)
For a foot washing station, reuse the tub under the hand washing station, or place a new bin with water and towels outside your tent so everyone can wash their feet before they crawl into bed or use the tent to change. This way you keep dirt, rocks and other gunk out of the tent.
Hanging Clothes Organizer
For extra organization, we love this
hanging pocket organizer
for hairbrushes, toothbrushes and toothpaste, deodorant, shampoo & conditioner, sunscreen, bug spray, toilet paper, matches and lighters, dog leashes, flashlights, our keys and phones and anything else we need to keep track of.
Bikes
You can explore so much more when you bring along everyone's bikes (and helmets, of course.) Also, when you're around your campground, this is a fun activity for the kids to jump on bikes and ride around where you can keep an eye on them.
Shoe Basket
This is an easy way to keep kids (and adults too) from tracking dirt inside your tent or camper. Set out a shoe basket  outside the door and each time someone comes in, they leave their shoes in the bin, and when it's time to go outside, they know exactly where they are. This is a big help in middle of the night to use the bathroom and need your shoes.
Bring Pool Noodles to Cover Tent Pole Lines
Tent lines look nearly invisible… until you're tripping over them. Mark tent lines with pool noodles to save everyone – and especially kids – from stumbling over your cabling.
It's Always OK to Overpack These Items…
Blankets and Towels (it's better to be too warm, than freezing at night)
Food
Jackets / Sweaters
Extra Clothes
More Camping with Kids Hacks: