25 New Year's Eve activities for kids. Coloring party hats, DIY balloon drop, games, reflection cards, DIY confetti poppers & more, for a SUPER FUN night.
Awesome New Year's Eve Crafts & Activities for Kids 
Whether you're getting ready for a pajama party at home, gathering with friends or are a teacher looking for fun ideas to share with students, I've got 25 awesomely fun activities and games kids will LOVE.
We usually stay at home or get together with our neighbors and celebrate, but I still like to have a bunch of activities, crafts and fun games up my sleeve for a fun-filled night.
These 25 New Year's activities are fun, free, simple, require minimal supplies and yet, give you hours and hours of festive cheer and laugher. I hope you enjoy them and like all the ideas I've pulled together here.
25 New Year's Activities Your Whole Family Will LOVE
I hope you enjoy these 25 super fun New Year's activities. They're simple, require minimal supplies, most of them a free printables you can download and print at home to use, but add a pop of excitement to your New Year's Eve bash whether you're at home or gathering with friends.
1) Printable Coloring Party Hats 
Color your own New Year's Eve party hats and ring in the new year in your own unique style! Have fun with party hats for New Year's Eve with ready-made ones and decorate to your heart's content!! You can add stickers, glitter, pom poms, ribbons and gems. Just have fun! Get your Printable New Years Coloring Party Hats for Kids here.
2) NYE Reflection Cards 
I love taking time to reflect on the year behind us, and also look ahead to the New Year. These reflection cards are great conversation starters or to keep around the dinner table and spur family conversations, reminisce on the sweet moments and memories from the year, lessons learned, challenges overcome and more!
3) Year in Review Printable Activity Sheet 
Who doesn't love "All about Me" coloring pages and this special version is all about reviewing the year, and looking ahead to the new year! Not only are they are great way to reflect on the year, but they also make a brilliant keepsake for you and your kids. You can always take out past year's reflection pages and compare how things have changed. Get your Kid's Year in Review Printable Activity Sheet here.
4) New Year's Word Search 
My kids are really, really into word searches right now, especially my Kindergartener who is excited to find words and letters in books, magazines and of course, word searches. You can do a word search as part of school, or as a fun New Year's Eve activity.
You can get your free download of the New Year's Eve word search here.
5) New Year's Activity Sheets 
My kids beg and beg me to create new activity placemats and I love to cook dinner and watch them color and fill them out in the kitchen. When they asked me to create New Year's Eve activity mats, I didn't hesitate. You can get your copy of these activity sheets here. Enjoy!
6) Make Your Own Confetti Poppers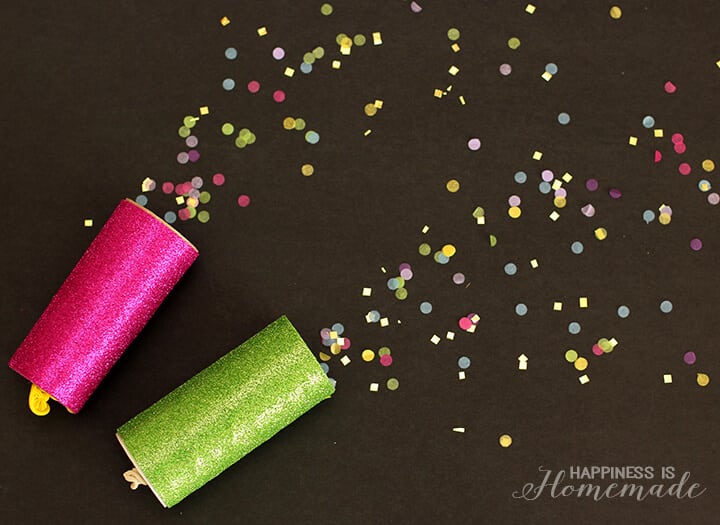 New Year's Eve wouldn't be complete without poppers and confetti! These fun and easy confetti launchers that are sure to be a HUGE hit with the kids! Get the details from Happiness is Homemade here.
7) New Year's Eve Paper Plate Celebration Clock 
Using construction paper and a paper plate, make a cute New Year's Eve Paper Plate Celebration Clock to count down the hours to the new year. From The Pinterested Parent.
8) Super Cute Bubble Wands 
Adorable Bubble Wands from Red Ted Art would be a great activity to make and use all night long.
9) Holiday Themed Paper Cookie Catcher 
Snowman joke teller cootie catch from Brendid.
10) Make Wearable Coloring Watches 
They may not tell the time or move, but they're absolutely adorable and look like a great craft for kids to do any time of the night. This great idea is from Hattifant.
11) Create Paper Plate Noise Makers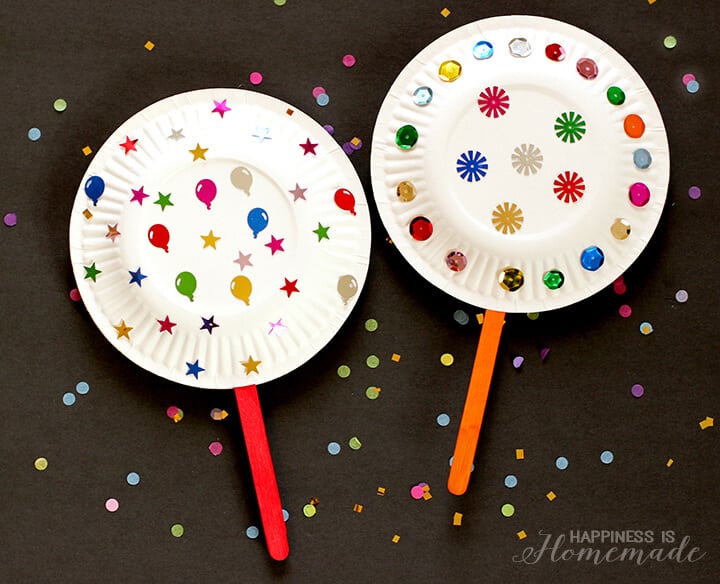 These paper plate shakers from Happiness is Homemade are super easy to make, simply glue two small plates together around the edges – fill with rice or dried beans and insert a craft stick while you're gluing everything together. When the glue is dry, decorate the noisemakers with stickers, rhinestones, makers, etc.
12) Photo Booth Printable Props 
Creating an area for a Photo Booth in your home is super easy and are also a fun way to create memories from New Year's Eve. Here are some fun printable photo props to dress up your New Year's Eve! Simply print, cut, assemble and you're set!
13) Make DIY Party Crackers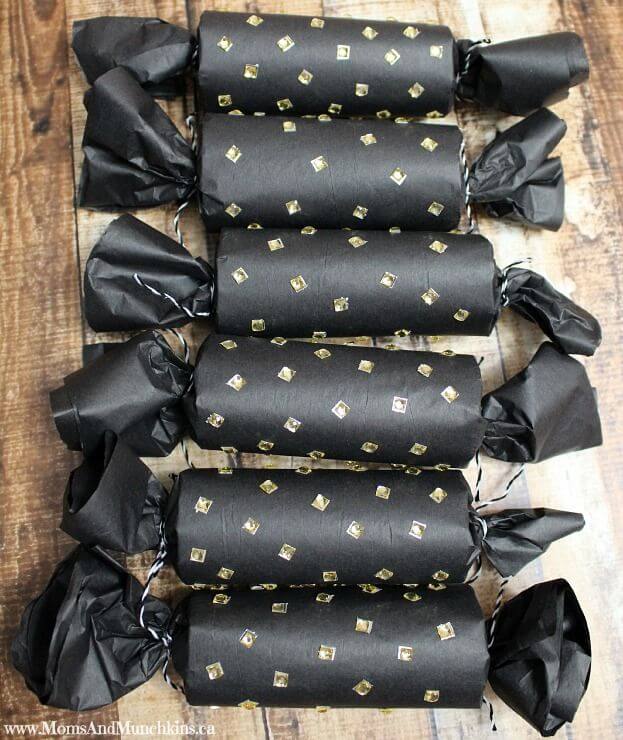 Create DIY Party Crackers with Moms and Munchkins
14) Minute to Win it Games
These quick and easy games are guaranteed to liven up any party! Minute to Win it Games are hilarious and add to the joyful atmosphere – let the hilarity ensue.
15) Create a Wishing Wall for the New Year 
Write your wishes for the new year and post them with this fun New Year's Eve Wishing Wall Activity from Buggy and Buddy
16) Make Firework Rings 
These are a favorite for my girls to make each year! Here's how to make these festive fireworks rings this year, from Fantastic Fun and Learning.
17) Upcycled Box Noise Makers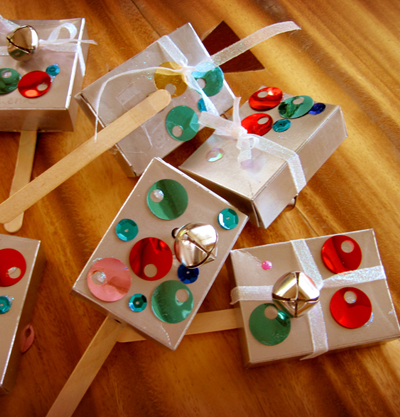 What better way to put holiday boxes to use than to recycle them into New Year's noise makers! You could also upcycle things like toilet paper rolls, raisin boxes or snack boxes. Look how festive these New Years Noisemakers are. Check out Alpha Mom for the full directions.
18) Make Your Own Midnight (or 9 o'clock) Balloon Drop 
What could be more festive on New Year's Eve, than a balloon drop!? Make a homemade balloon drop with just a few simple supplies, and at midnight (or whenever you choose) pull the string and let the balloons fall. Kids and adults alike will LOVE this memorable activity and request it year-after-year! DIY Balloon Drop From One Good Thing by Jillee.
19) Create a Blessing Jar for the New Year 
I love the introspection that comes with the new year and taking time to reflect with our children about what was great during the year, and also goals and what there's to look forward in the new year. I absolutely love this idea for creating a blessing jar to collect these thoughts throughout the year and then read on the following New Year's Eve. What better time to create a blessing jar for the new year, than on New Year's Eve.
20) Confetti Eggs 
Happy New Year everyone! Make a dozen or so confetti eggs, and when you throw them down at midnight (or 8 or 9 o'clock), enjoy the burst of color and confetti. Confetti Eggs from Radmegan
21) Mix up a Batch of Party Confetti Slime 
This New Year's Eve Party Slime is from Left Brain Craft Brain
22) New Years Eve Countdown Chain 
Write down one activity or task to do each hour of your countdown with this New Year's activity chain from Playdough to Plato.
23) Build the Best Blanket Fort Ever! 
Build The Best Blanket Fort From Pretty Providence
24) Decorate a New Year's Eve Tree
No need to take down your Christmas tree just yet! Start a new tradition and redecorate your tree with balloons and inexpensive New Year's decorations. New Year's Tree From Our Best Bites.
25) and Finally… a Milk & Cookies Toast 
Out with the champagne (at least for the littles) and yes to milk and cookies! Kid-Friendly Milk & Cookies "Champagne Toast" From Style Me Pretty.
More New Years Activities for Kids Ideas: