Setup your homeschool classroom, whether you have a small room or a lot of space. Basics of a homeschool classroom & 15 small space homeschool setup ideas to inspire. Want help teaching your kids to independently follow a routine that works like magic before, during and after homeschool? Try the Back to School Routine bundle today!
15 Inspiring Homeschool Room Ideas for Small Spaces
If you're jumping into homeschooling your kids for the first time, this can come with a lot of overwhelm and stress. You don't want the idea of designing the "perfect" homeschool classroom to add to the stress you likely already feel.
Creating an Instagram worthy homeschool space can be expensive, and is often unnecessary.
The beauty of homeschooling is that your space is unique to your home, as well as to your children. A lot of teaching and learning will take place in the homeschool area you create, but a lot of it will also happen outside those small four walls because the world becomes your child's classroom and learning will happen all day long whether you're in nature, sitting behind a desk, stuffed into a bean bag or counting apples while grocery shopping.
The space you create in your home for homeschool is going to be perfect no matter how you design it and the square footage you're working with, but don't start throwing into your cart every "must-have" the next time you're at the store.
Take your time creating an intentional homeschool environment first with the basics, and then fill in as you go and deeply discover your child's learning interests and needs.
You'll find several pointers on designing a small space for homeschool, the basics to have when you gather supplies for your homeschool classroom, as well as 20 small space homeschool ideas to inspire you to setup the space you're working with.
On the fence about homeschooling? Check out the Homeschool Pros and Cons Handbook to help you make a decision about what'll be best for your family.
How do you design a homeschool room? How about a homeschool space in a small room?
The beauty about homeschooling is that your entire world becomes your classroom and no matter how small the space is you're working with, this will expand when you think outside the box.
You may want to do some work in your homeschool space, but you can also do lessons and learning outside, at the park, on the go and during "field trips."
It's nice to have a starting place for school each day and that may be your dining table, a walk-in closet you've converted (yes, for real!), community table with chairs around it for teaching, or small desks for each of the kids. Then, once you get into the learning, your kids may sit on a soft chair, lay on the floor or slink into a chair on the grass for reading.
One of the most important things to do with your homeschool set up is to make sure your learning is away from devices and screens are turned off.
Don't let the size of the space you have make you think you can't make it work! A small space classroom gives you a secluded area for your homeschoolers to do work, and then move beyond the four walls when it's time.

What supplies do I need for homeschooling?
Before you rush out and splurge at IKEA or Target with all the things you've been told will make your homeschool space look pretty and Instagram worthy… PAUSE.
You likely already have a lot of items to create an organized and positive homeschool space for learning. I recommend starting school with the basics and essentials for learning and then figure out in time what else may be helpful and will help your child explore and learn in their space.
Of course, age will also play a big factor.
For example, preschool and Kindergarten aged children learn best with play-based learning which means more blocks, toy-based items like a kid's play-kitchen, play dough and fun learning puzzles, than an older elementary-aged child who would benefit from math manipulatives, art supplies, maps and chapter books.
Also, the layout of your homeschool space will also depend upon the style of teaching and learning you choose. Montessori style learning relies on self-choice and limited items, open and low shelving, hands-on pieces and often montessori style wooden learning tools.
Your homeschool will look however you design it and over time, discover your children learn the best. This may be with desks, or this may be soft bean bags and soft music playing in the corner, or outside on the grass.
Basics for your homeschool classroom setup:
Real talk here. You don't need the crazy long and expensive list you get from public school. These are the real homeschool basics you'll use often, not a set of headphones to wear once or glitter pens in 77 different colors.
Work space (desks, dining room table, chairs, converted closet, etc.)

Some sort of bookcase / shelf unit to organize materials, curriculum, books, and more
Organization cart or drawers for supplies like paper, art supplies, pencils, and school creation materials.
I've seen these rolling bin carts in a lot of homeschool spaces and these heavy duty metal carts are nice for open storage and easy to grab items like books and art supplies
Seating area for reading and working independently (this may be a bean bag, soft chair, couch, lawn chair outside)
Curriculum of your choosing (online, worksheets, workbooks, books)
Teaching supplies you'll need as a teacher such as:

Homeschool planner (track hours, lesson plans, and keep records.) This is the homeschool planner we use and can track up to 6 kids.
Computer, printer and printer paper
Laminator and laminating sheets
Binders or Filing system to organize materials for lessons week-by-week (this is best way I've found to organize them)
File folders
Tape
Hole punch
Stapler
Sticky notes
Plastic sleeves for copy work
Dry erase markers
Student supplies (the basics) your kids will need for homeschool:

Pencils, colored pencils, crayons, markers (My first Ticonderoga are larger pencils good for little learners and are easier to grip.)
Erasers
Cutting scissors
Notebook / Lined Paper
Glue Sticks
Paint and paint brushes
Supply case (it's nice when each child has their own case and don't fight over whose pencil or pens belongs to who)
For PreK and Kindergarten, exploratory sensory items like play dough, water beads, and sand are nice to have.
Arts and craft supplies aren't essential, but art is a common subject most every child likes to participate in.
Wall & decorative Pieces – These decorative accents completely up to you and you likely already have some things around your house. They can add color to your space and for young learners, can help with learning too. Here are some ideas:

World map / globe
Bulletin board
Encouragement or Growth Mindset art (or make your own with these positive message coloring sheets & hang them up!)
White board or chalk board
How many hours a day is required for homeschooling?
This is a common question most people ask about homeschooling. Homeschool hours vary for each homeschooling family based on your homeschooling method, the homeschool curriculum you use, and state requirements.
Although the curriculum you choose is up to the parents, homeschoolers still must comply with their state's homeschool laws. Look up your state's laws to find the number of required days of school and hourly commitment.
I suggest you keep track of the days your kids are in school, and the hours in a calendar. You may be asked to produce this information for your school district or state, and it's good to keep good records of this.
15 Inspiring Homeschool Room Ideas for Small Spaces
Here 15 small spaces configuring for homeschool teaching and learning. I hope these ideas inspire you to look beyond create a classic classroom setup and think outside the box. Your homeschool classroom can be as creative and inventive, as well as, as large or as small as you'd like.
This space has a table with chairs and bench, and then low shelving with baskets and learning manipulatives, as well as a colorful wall with fun, positive signs. I love this casual learning setup from Happiness is Homemade.
This room has a central table, cabinets with organized materials and a white board on the opposite side for teaching and practice. The Moffat Girls space is beautiful, but organized and equally functional.
Color is what makes this homeschool classroom space so fun! The vintage desks were likely purchased used, and give the kids their own desk space. The pillows and cozy chair are fun places to sit and read, or listen to Mom or Dad reading aloud. The map and paper lanterns and globe overhead are a fun touch.
Turn a small nook into a homeschool work station with two small desk. Find a chalkboard like this or hang a map of the world on the wall, pick up some desks to fit the nook space and tin bins or file folders work too, to hold school work and you have a great little work station. Source unknown.
This is not a "less is more" classroom setting, but is full of color, art work, fun garland and pops of cheer everywhere. The cube shelves work well to organize everything, and a central table has drawers for every child to keep their materials and school supplies organized. From Simply Happenstance.
The desk in the middle is a good homeschool teaching space, and with the arrangements of book shelves filled with reading books, and a chalkboard for teaching, this is a simple and easy on the eyes homeschool setup. The Sweatman Family
A converted closet doubles as a homeschool desk with personal touches and a handy pegboard to organize items makes this a fun, colorful and personalized work station. I Heart Organizing
This is simply a beautiful homeschooling space. The color palate is very calm and serene, and probably helps everyone during homeschool time. The table in the center with art and coloring materials in the center, and room with shelves and neutral baskets around to hold books, materials, curriculum and learning tools at kid-height. Artful Homemaking
This is more of a traditional classroom style set-up but with a small nook like that, it's absolutely perfect! With bookcases behind to hold materials, books and activities, and desks in front, it's easy to keep kid's attention and not let their eyes wonder to all the fun stuff on the shelves. Source unknown.
This is a minimal yet sweet homeschool room from Kristin Peddicord. I love the comfy chair in the corner for reading and cuddling with books.
That Mama Gretchen created a simple yet really effective layout for homeschooling with a large table, bench seating and a cube unit to organize everything. There's a lot of fun colors with the rug, end of table organization tub, pendant flags and pops of cheerful color here and there.
This is a fun place to learn, play, craft and do activities. It's bright and the organizers keep everything in place and a central table to learn at. Amanda Medlin
This converted closet with bi-fold doors shows you just how creative you can get with a homeschool space. The space when cleared out and arranged with a desk, shelving and everything you need for school can really transform itself. Then, when you're done, all you do is close the doors and hide it away until the next day. Source: Houzz
This is only one wall of a room converted to a homeschool classroom. Short on space? Take up one wall of your dining or living room and you'll have plenty of space just like the Diligent Heart.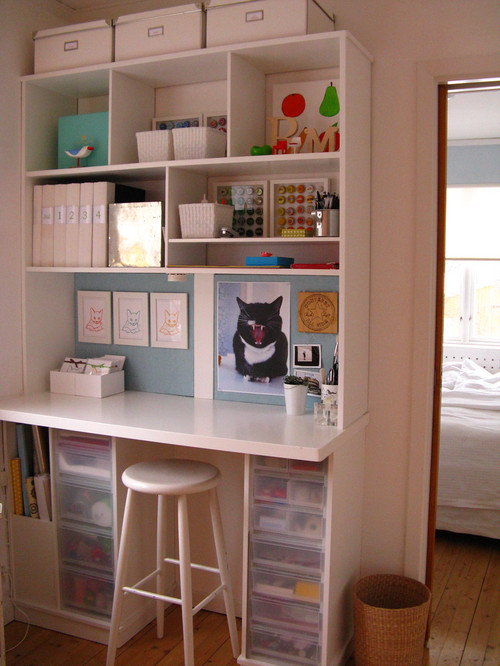 Add a desk, hutch and built in shelf to any wall and voila, instant school space without taking up a ot of space, or covering your dining table with school supplies! Source: Houzz
More Homeschool Resources: