These 26 Unique Family Christmas Traditions are unheard of, silly, goofy, promote family togetherness and are incredibly fun! Family traditions is the glue that cements families together and the moments you'll all cherish for a lifetime. These Unique Family Traditions Are so Much Fun, Your Kids Will Never Forget Them. 
And don't forget to snag your Kid's 99-Page Holiday Activity Kit, complete with Elf on the Shelf Notes & Letter Boards, Letter to Santa, Activity Sheets, Countdown to Christmas, Christmas Scavenger Hunts & I Spy Games, and much more! 
27 Unique Family Christmas Traditions To Make the Holidays Magical for Kids & Adults
We spend so much time and effort trying to make the holidays perfect for our children, and in all our efforts of making December magical, we miss it.
When we get caught up in the pressure of making Christmas something spectacular – two whole days a year out of the 365 we're gifted – we can easily miss the little, most magical moments throughout the entire month of December.
Don't skim over the excitement of simple things our children relish in like baking cookies, seeing Christmas lights on the drive home, and the sparkle in their eyes when they see the lights on the tree at home turn on for the first time each year.
Meaningful isn't found one eve or one morning each year, it's the everyday and family time that matters.
The traditions, the small breaths of excitement and bright reactions, which light up your heart like electricity. The small moments will always be the big ones when we think back and remember these days.
Some of my favorite Family Christmas Traditions have been passed on from my own childhood, as well as my husband's, but they're also the ones we create together.
Reading "The Night Before Christmas" at bedtime all snuggled together in bed, wearing goofy family pajamas all day long on Christmas and decorating from floor to roof the day after Thanksgiving always stick out as special in our house.
When I look back and remember my babies year after year, these family Christmas traditions will be engraved in my heart forever. Some are silly, some passed down from generation to generation and some unique and cherished.
1. Write a Letter to Santa
As parent's we may think we know what's on our children's wish list but the best way to know for sure is to have your children write letters to Santa. This Letter to Santa template will put your kid's wish list in black and white for you, but also serve as a special keepsake for their baby books!
2. Receive a Text & "Caught In The Act" Picture From Santa
Sign up for Santa to send your kids personalized text message in the days leading up to Christmas, and on Christmas morning, you'll also receive a picture of Santa in your living room right by the tree! You can have different storylines for multiple children in your home so no one gets the same thing. Sign up for Texts From Santa.

3. Wrap Up Books or Movies for a Special Surprise
Find all your Christmas books and movies and wrap them up! Whenever it's time to read a bedtime story or watch a Christmas movie, your kids can unwrap one item from the basket of goodies and find their surprise. From Smart School House.
4. Plant Peppermint Seeds to Grow Candy Canes
This is a silly yet fun activity for kids who still believe in magic! Plant round red and white peppermints in the group, also called peppermint seeds, and check on the them the next day to see what's grown in their place. Magically, those peppermint seeds will grow into candy canes! (Just make sure your peppermints match the colors of the candy canes so your kids don't catch on.)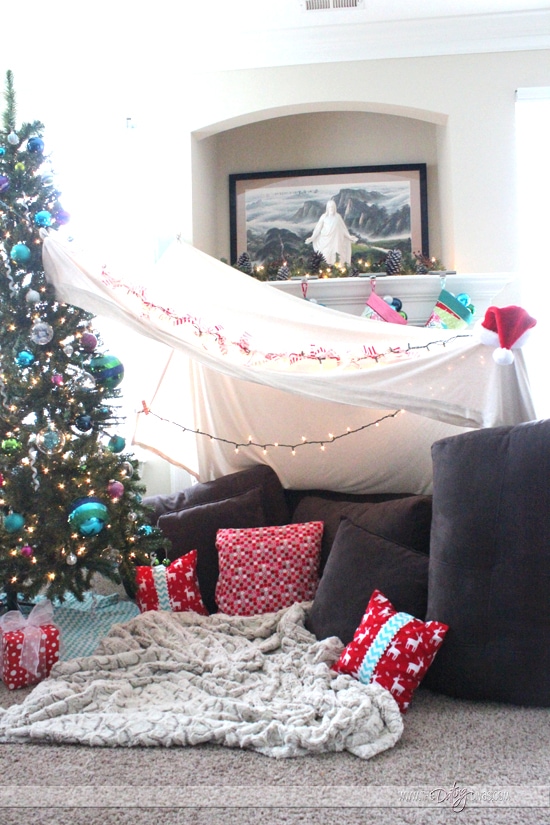 5. Camp Out Under the Christmas Lights
My kids get to pick a non-school night in December to set up their sleeping bags, pillows, hundreds of stuffed animals and sleep in the living room with the Christmas tree lights on. We might watch one of their favorite Christmas movies like The Grinch, eat popcorn, have hot chocolate and read a Christmas story before they settle to bed camping out under the Christmas lights.
See more ideas on making this Christmas Campout memorable at The Dating Divas
6. Glowing Magic Reindeer Food
Magic Reindeer food is a special mix of rolled oats, sunflower (or any type) of seeds, red and white crystals (or other cookie decoration) mixed together and sprinkled on the lawn for Santa's reindeer to eat when they visit your house. When your kids head indoors (you'll want to coordinate this with your spouse), take a glow stick and pop it open so you can spray the liquid on the lawn. When your kids look out the window, they'll see the glowing reindeer food on the lawn.
Here is the link to the Magic Reindeer Food Printable with recipe to download.
7. Santa Footprints
Need proof that Santa visited your house last night? Place a cookie tray filled with flour in or near the fireplace (or area where Santa enters your home.) After the kids have gone to bed, gently press two big boots in the flour to leave footprint marks. You can leave an extra set of shoe marks outside of the tray too and watch as your kids will be amazed by the "evidence" left behind that Santa was in your home.
8. Special Wrapping Paper For Each Person
Pick up a few styles of unique wrapping paper and assign one pattern to each person in your home. For example, your oldest may get reindeer wrapping paper, your youngest has polka-dots, and your spouse has Christmas trees. When it's time to divvy up presents, your kids can get in on it and help hand out presents based on the patterns of wrapping paper.
9. Surprise Reindeer Nickname
Similar to giving your kids their own pattern of wrapping paper, assign them a special Reindeer nickname such as "Dancer, 11. Prancer, Dasher, Blitzen, etc." and when you write names on presents, this is what you'll write. These fun nicknames are kept a secret and makes for a fun wait for when the presents are handed out to find who has which Reindeer name.
10. Handprint Tree Skirt
This is a wonderful way to document your children's growth and change year after year. Start with a white tree skirt and year after year, paint your children's hands and have them place their hands with the year on the tree skirt. You can do all the kids in one color for the year, or keep each child one color year after year. The handprint tree skirt will also become a cherished family heirloom!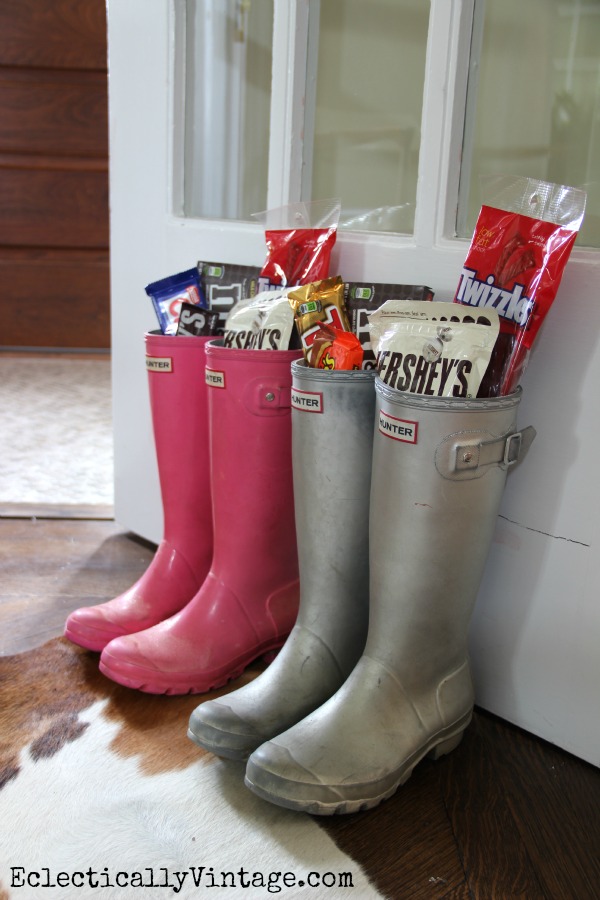 11. St. Nicholas Tradition
Celebrate St. Nicholas Day on December 6th by filling everyone in your family's shoes, left at the door, with gifts and treats. Traditionally, shoes are filled with coins, fruit, sweets and/or a small gift.  St. Nicholas Day by Kelly Elko
12. Christmas Bingo
Snag this set of 8 Christmas Bingo sheets to play this game with your kids. Cover the squares with Hershey kisses or leftover candy from making your gingerbread house.
Download & Grab Your 8 Christmas Bingo Game Sheets

13. Jingle Bell Toss
The jingle bell toss is a fun holiday game to play, especially with cousins and relatives in town. All you need are red solo cups and a couple jingle bells and you'll be ready to go! See the instructions to make your own Jingle Bell Toss from Playground Park Bench.
14. Go on a Christmas Scavenger Hunt
These printable Christmas Scavenger Hunts (there's two!) are adorable and great fun for kids and adults during the holiday season. Check out the Christmas Scavenger Hunts here and be sure to print a copy once you have all your decorations up!
15. Have an Indoor Snowball Fight
Surprise your kids after school one day or after dinner with a fun (and soft) indoor snowball fight. Play in a room without breakables and toss these soft snowballs around. Build a fort for safety and see who is the last one standing! This 40-pack of soft snowballs is the perfect size for everyone to have a blast!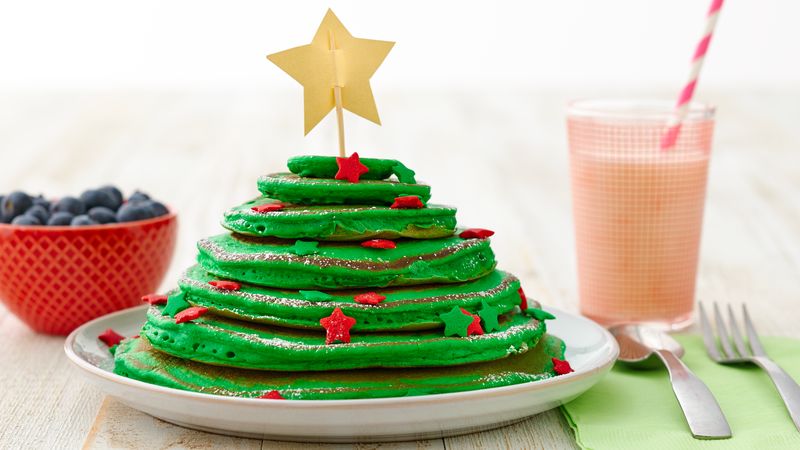 16. Green Christmas Tree Pancakes for Breakfast
17. Set Up a Children's Only Christmas Tree
Set up your kid's own mini Christmas tree they can decorate and re-decorate whenever they want. Not only does this keep kids from messing with the family tree, but you can keep your stack of wrapped books and movies under this tree to add to the festive flavor.
Here is a felt tree you can hang on your wall if this would be a better fit in your home.
18. Start an Ornament Collection    
Each year, we add a couple new ornaments to our collection of trinkets. I take the kids shopping to each pick out a new ornament they find meaningful to them, and get to add it to their own ornament collection.
Grandma also sends each of my children a personalized ornament every year so when it's time to decorate the tree, each child has their own special box of ornaments they've accumulate year after year. They love rediscovering their ornaments and hanging on them on the tree.
If you start an ornament collection, when your kids are older, they'll have a small collection of cherished ornaments from childhood to bring to their own family.

19. Pick a Unique Tree Topper           
Last year, when it came time to finishing the tree and putting on the tree topper, the kids took a different direction from our traditional peace Dove. This fella, the mighty Allosaurus became the new (and unique) tree topper after the kids had watched How the Grinch Stole Christmas and decided our tree needed someone to protect their presents from the Grinch.
Do you have anything fun and unique in your house to top the tree?
20. Create Christmas Themed Handprint Art
Christmas Handprint art makes the best homemade gifts and keepsakes you'll always cherish. Christmas is just a few weeks away and the perfect time to start your handprint art soon! This a great collection of some of my favorite Christmas handprint arts and crafts. Here are 20 fun & easy handprint art ideas to do with your kids. Baking Soda Handprint Keepsakes by Mama.Papa.Bubba

21. Watch The Grinch with Grinch Popcorn
Schedule a family movie night to watch The Grinch, but the night wouldn't be complete without Grinch Popcorn! Get the recipe from Two Sisters Crafting
22. Create a Night Before Christmas Box
Create a Night Before Christmas Box for all the kids to open up at once, or one for each child. The box can have new Christmas pajamas to wear to bed, a Santa hat, socks or slippers, a Christmas book to read before bedtime, hot chocolate and some sort of note.
You can snag free printable for your Night Before Christmas Box from Oh My Creative or Call Santa! This one has a cute message, Frugal Coupon Living
23. Save a Slice of Your Tree as an Ornament
Slice off the bottom of your tree trunk each year, apply a finish and write the year and a special memory to preserve the holiday. The Photographer's Wife
24. Take Siblings Shopping To Buy Gifts For Each Other  
This tradition is one my kids talk about all year long and once we decorate our tree, ask a million times when is it time to go Christmas Shopping for their brother and sister. They love it so much!
Each year, we give the kids each a certain amount of money to go shopping for their siblings. It's usually $10 per child, but this is completely up to you and your budget. Mom or Dad will take each child to a store of their choice to scout out the special presents and what's special is not only the time you get one-on-one with your kid during the busy holiday season, but you see how intimately your child knows their siblings and seeing the amount of thought they take to plan for the perfect gift.
Here are 6 Sibling Traditions to Let Them Delight in The Excitement of the Holidays Together
25. Matching Family Pajamas
We've always had matching pajamas and at first I thought this was a silly tradition, but over the years I've loved looking back on pictures and seeing how much cheesy and happy we looked together in our matching jammies.
Quick Buying Tip: I like to buy a size up so each kid will be able to (generally) wear the same pair two Christmases in a row. After the holidays if you can find a size or two bigger in the same style and they're on sale, snatch them up for future holidays so you don't have to buy a new set every year!



26. Only One Present from Santa
Want to keep kids from feeling entitled to a ton of presents from a magical person or making others feel bad at school who less fortunate and didn't receive much, if anything from Santa? This is exactly why I love giving my children all but one of their presents from Mom & Dad and only a single present from Santa. Santa is fair and should gift all children one special gift, not a million.
What other special and unique family Christmas traditions do you do in your home? 
Be Sure to Also Check Out All of Our Gift Guides:
And Holiday Resources…