Summer is here, the kids are out of school, days are longer and the weather is perfect for going camping with kids.
A family camping trip is the perfect way to spend time together, take a kid-friendly vacation at your favorite campsite, get away from screens and the hustle and bustle of everyday life. 21 fun camping games your kids will enjoy on your next camping trip.
Summer means camping season is upon us, but before you head out for an outdoor adventure camping with kids, there are efficient ways to prepare for a stress-free family camping trip, and prepared for the times when kids get a little bored and need some entertainment.
We are never without a set of uno cards or some of our favorite board games, but these camping games are a great addition to your camping trip, too!
These fun camping games and activities will keep your kids busy, and happy while you're out in nature.
If You Need a Screen-Free Activities your Kids will LOVE…

Camping Games Kids will Love
Camping Bingo (Free Printable)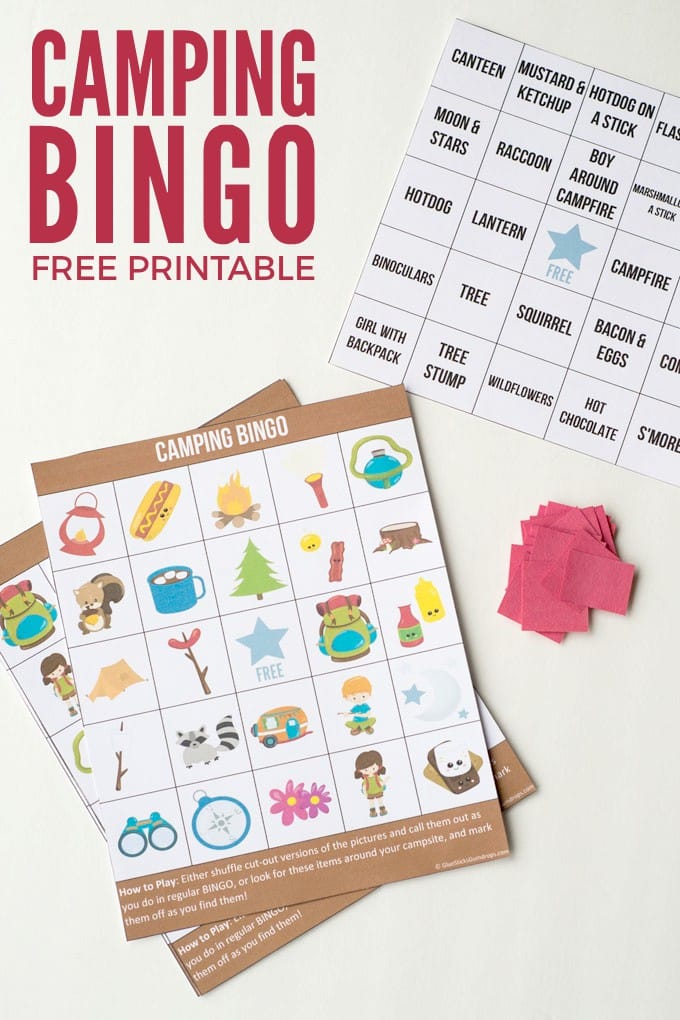 Whether you're heading camping in he wilderness or your own backyard, camping bingo works wherever you are! Print a handful of game sheets, and use rocks or flowers the kids collect at your campsite to mark off spaces on their game sheets when you play. Snag your free printable Camping Bingo cards here thanks to Glue Sticks and Gum Drops.
Camping Cornhole and Horeseshoes
Bring along a Portable Cornhole Game or take along horseshoes for kids (no throwing the heavy metal ones!)
Ring Toss Game
Bring along a Ring Toss set or create your own DIY ring toss game from Mom Endeavors. With a quick trip to Home Depot and a few supplies (wooden round, dowels and rope twisted into rings and wrapped in duct tape), you can make your own set on the cheap.
Nighttime Ring Toss & Glow in the Dark Bowling

When the sun sets and things get dark, have a little fun playing Glow in the Dark Ring Toss from Momma Did it, and Glow in the Dark Bowling
Stone Stacking
Stone Stacking and rock balancing is a great STEM activity and kids love the challenge of seeing how big they can make their stone tower. Read more at Rhythms of Play.
Squirt Gun Races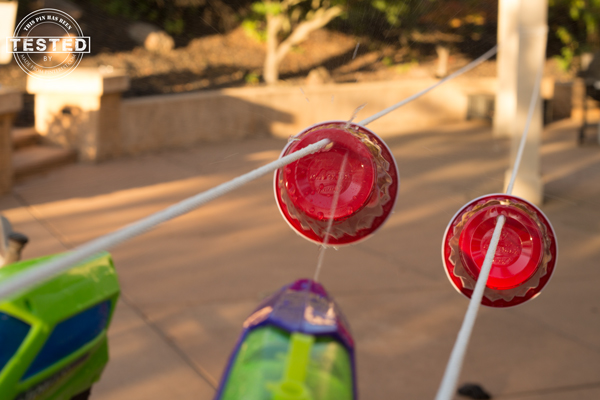 String up two lines with plastic cups, and let the kids race from one side to the other only propelling the cups with the water from their squirt guns! From This Grandma is Fun.
Balloon Ping Pong
These are super easy to build – using paper plates, sticks and one balloon, let's see how long the kids can keep it in the air and rally back and forth with one another!
Frisbee Tic Tac Toss
Create your own Frisbee Tic Tac Toss in minutes and for less than $10. Here are the instructions to create your own Frisbee Tic Tac Toss Game to take when you go camping with kids.
Water Balloon Toss
Take a long water balloons for an impromptu water balloon fight, or to have a water balloon toss. Either way, it's a fun and easy way to cool down on a hot summer day
If the weather's warm enough, bring along some water balloons for a water balloon toss. It's a great way to cool down on a hot summer day!
Recycled Bottle Bowling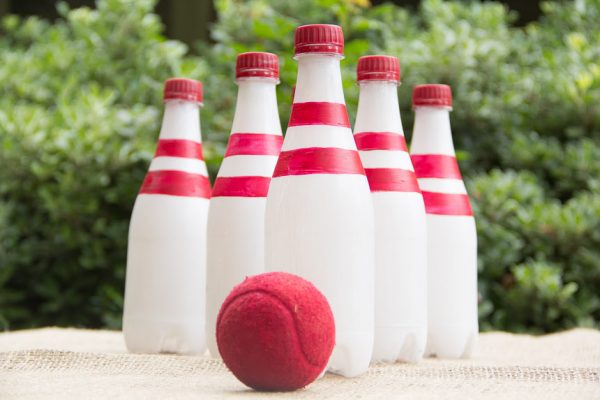 Use bottles from around your house, paint them and bring them a long with a few "bowling balls" you already have from around your house. From This Grandma is Fun.
Bean Bag Toss
Take a long a handful of stackable (and easy to store) buckets for bean bag toss. The closer the bucket, the less value and the further the bucket is away, the higher the value. You can grab these inexpensive bowls for $1 each at Target or the Dollar Store.
Bring Your Own Bubble Station
What kid doesn't love bubbles? Bring a long your own bubble refill station with several batches of homemade bubble solution and you'll be set for plenty of giggle and bubble blowing fun! Get the details on making your own bubble station from Crafty Mama In Me.
Pantyhose Bowling
Pantyhose bowling is an ultra-fun version of bowling and doesn't require many materials or much set-up. Simply, put a ball (tennis or lacrosse ball) in the pantyhose leg, tie it around your head and then try to knock down the line of water bottles by swinging it back and forth.
Camping Tic Tac Toe
Create a simple tic tac toe with sticks, rocks and pinecones (or other materials you find in nature.)
Here's another tutorial of how we created our own tic tac toe board from an old tree slice.
Outdoor Scavenger Hunt
You can print this outdoor scavenger hunt from this article here. Another free printable we created is the outdoor sensory scavenger hunt.
More Camping Games to Take Along for Camping with Kids
If you aren't super crafty or don't have the time to DIY activities for camping with kids, here are a few classics your family will love and you can have shipped straight to your door before you head out on your outdoor adventure:
More Tips for Camping with Kids: